2016 — "The Land of Birch Trees"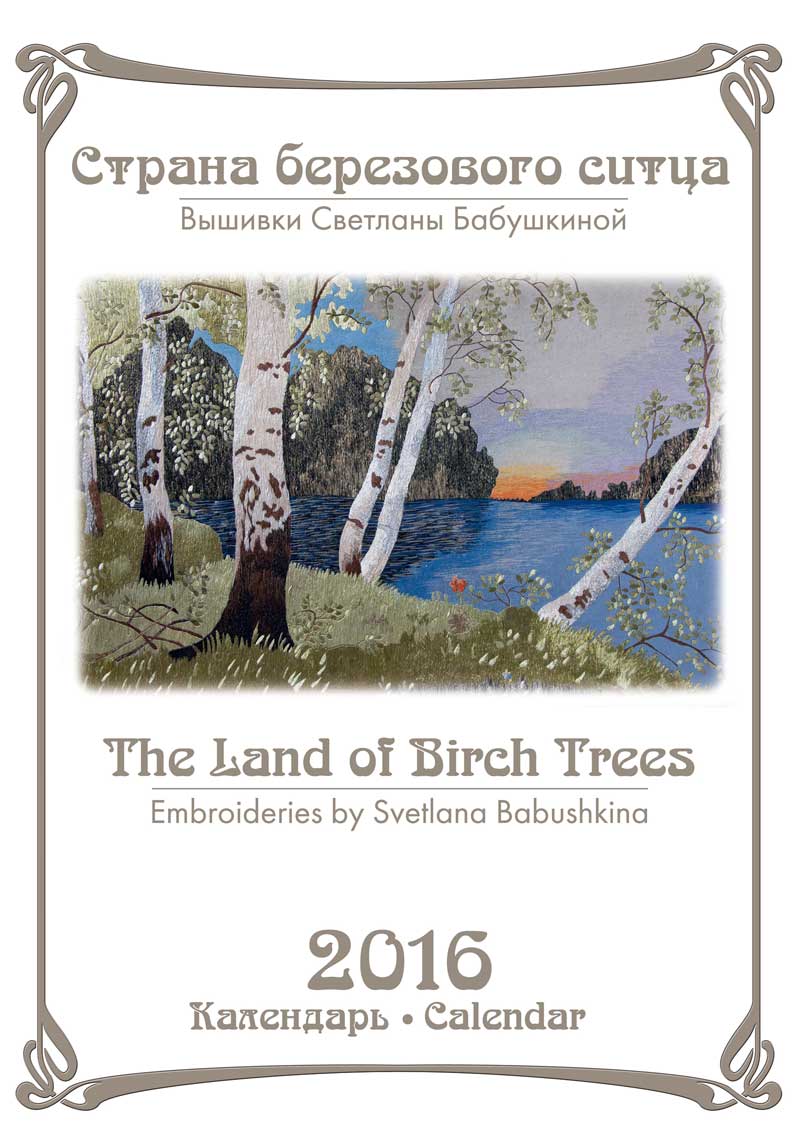 We were preparing a calendar for 2016. when sad news came; Svetlana Babushkina had died just before her 90* birthday. It is sad to know that she will no longer be among us although her memory will grace our lives for many years to come. A talented needlewoman, her art is interesting, intricate, and charming. She devoted much of her own love, bright inspiration, and hard work into her creations. They will contunue to be treasured by a great number of people of all ages living in different parts of the world. Many people start the New Year viewing the warm, cozy and cheerful images on the pages of the calendar and retain fond memories of her throughout the year.
In memory of Svetlana, we now publish the 2016 Calendar. «The Land of Birch Trees». Her exquisite embroideries overlap verses of the great 20* century Russian poet Sergei Yesenin. Together, the images and lyrical poetry will surelly produce warm and positive feelings for all seasons.
And here's the written review:
Julie Passalacqua
Dear Galina,
Once again, thank you so much for the 2016 calendar "The Land of Birch Tree", filled with your Mother's needlework and accompanying poetry. It is such an amazing work of art.
San Jose, California, USA
22.12.2015
Izabella Jaczynski
Dear Galina,
Thank you very much for your beautiful calendar, card and wishes. As in previous years, it is a tribute to your Mom's artistic talent and her beautiful creations. This year it has even a more important meaning than before. And how well you choose the poems that compliment her art so well with words. Thank you again my dear friend for sharing it with me too.
Lublin, Poland
19.12.2015