2007 — "Poetry of Embroidery"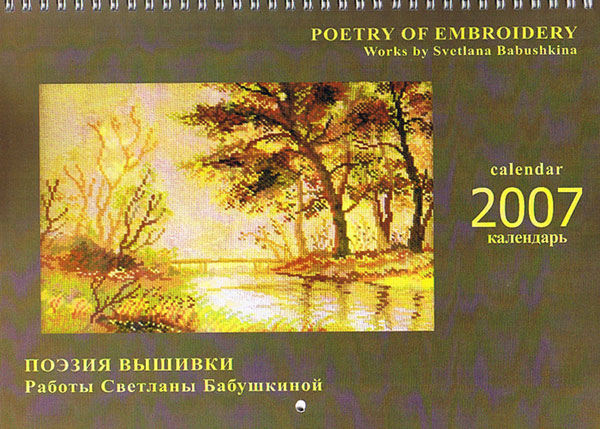 A poet as an embroiderers hase the same Muse — nature! The calendar was composed of landscapes made by cross-stitch and the Russian poetry dedicated to seasons.
And here's the written review:
Janice Lieberman
Dear Galina, What a delightful surprise I recieved this week when the album of your mother's embroideries arrived. They are so exquisite. Each one is unique and filled with "sunshine". I smiled as I studied each one... Your idea of developing a website is terrific, especially to have it in English and Russian.
The beauty of preserving your mother's work is that it keeps her close to you and is a beautiful legacy for the family.
03.02.2007
Julie
The book of your mother's art is incredible. She must have been an inspiration to you!
07.12.2006
Karen
Thank you so much for the beautiful calendar of your mother's cross-stitch. She is a true artist. I went to web site and enjoyed reading about your mother's life and work… and, of course, seeing some of her beautiful stitches pieces. I would love to see some of her ribbon embroidery as well.
05.12.2006